Arches Project Bulletin
News, Resources, Events and Community Highlights
October 2020
News
Two Arches-powered national heritage inventories have launched in the Caribbean region!
 "Both [web] sites were part of an initiative to establish and improve community-driven, national inventories/registries in the region as part of the Organization of American States (OAS) project, "Enhancing the Framework for the Development of a Heritage Economy in the Caribbean," announced Coherit Associates LLC.

The Barbados Ministry of Creative Economies, Culture and Sports, in cooperation with the Organization of American States, established the Barbados instance of Arches as the official repository of its newly created National Registry of Historic Places. Coherit Associates LLC, working in the context of an OAS Project funded by the U.S. Permanent Mission to the OAS, customized and branded the site and trained ministry staff in its use. The instance was installed by Legion GIS LLC. This Arches implementation represents an important step forward in local participation in heritage designation, through its community-based nomination procedure.
Description and Image provided by Dr. Angela Labrador, Coherit Associates LLC.
The Jamaica instance of Arches is the result of cooperation between the Jamaica Ministry of Culture, Gender, Entertainment and Sport and the Organization of American States, in a project funded by the U.S. Permanent Mission to the OAS. It is maintained and updated by the staff of the Jamaica National Heritage Trust. This instance of Arches emphasizes community engagement through public nominations of significant sites. Branding and customization were completed by Dr. Angela Labrador of Coherit Associates, who also led the staff training within the context of the OAS project. This instance of Arches was installed by Legion GIS LLC.
Description and Image provided by Dr. Angela Labrador, Coherit Associates LLC.
Arches Version 5.1 – Released on Oct. 27, 2020
We are happy to announce the release of Arches Version 5.1! This update includes several technology upgrades, including bidirectional support for the resource instance data type, a IIIF supported annotation datatype, improved support for localization, and more! Arches v5.1 also enables the use of the Esri Add-in Module, which will allow for real-time integration between Arches (v5.1) and the ArcGIS Pro. Keep an eye out for our announcement of the release of this module coming soon!
For highlights and release notes, see the Arches Version 5.1 release announcement


Resources
What is Arches? (Updated info on Archesproject.org)
In recent years, Arches has evolved to meet the growing needs of the community and to make use of new advancements in technology.  Given the many recent developments, we've updated the What is Arches? page to provide a current overview of Arches!
So, what is Arches in a nutshell?  Arches is an open-source software platform developed jointly by the Getty Conservation Institute and World Monuments Fund for cultural heritage data management.  The Arches Platform is a comprehensive solution for data management, data discovery and visualization, and project/task management.  The open, flexible and customizable design of the platform provides a wide range of uses for individuals and organizations in the cultural heritage field and beyond.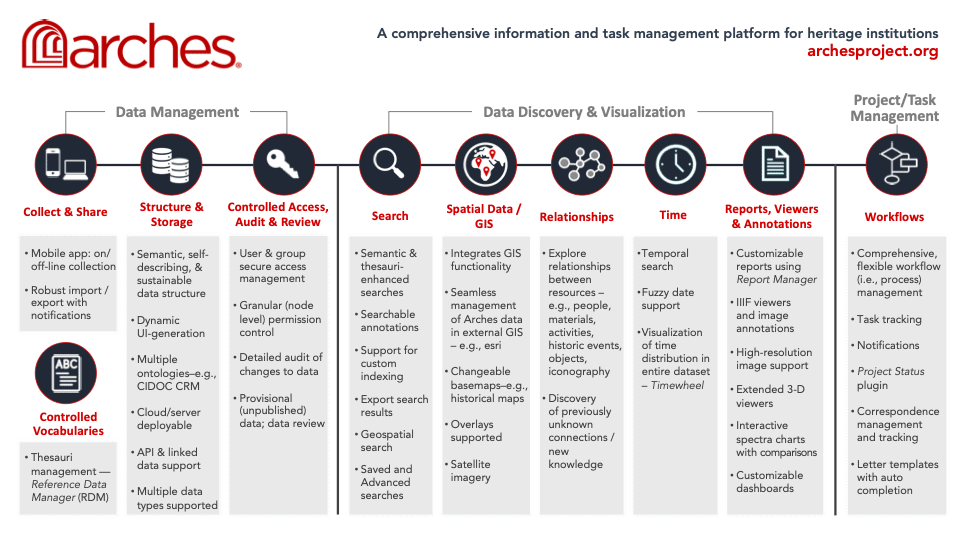 To learn more about Arches and to discover the comprehensive capabilities, features and uses of the platform, visit the newly updated What is Arches? page.


Getting Started with Arches – New!
The new Getting Started with Arches page on the Arches Project website has arrived! This page presents a list of information resources oriented toward those who are new to Arches and wish to learn more about the platform, its evaluation or implementation, and how to participate in the open source community. Be sure to bookmark this page as we continue to aggregate key resources, documentation, and upcoming community activities.


Arches Fact Sheet now translated into Ukrainian
Over the years, thanks to the Arches community, the Arches Fact Sheet has been translated into 9 languages! Now, we have added Ukrainian to the list of translations thanks to Kyrylo Kobtsev of Museum Systems and Technologies LLC based in Kyiv, Ukraine.
To view the Fact Sheet in Ukrainian, visit the Arches Fact Sheet page.


Events
After the success of the first Arches Developer Meetup this past August, hosted by Farallon Geographics, Inc., a second Developer Meetup is in the works! For software developers interested in or involved with Arches, be sure to check out the announcement on the Arches Developer Forum to learn more about what's planned, the timing (likely mid-November or early December), and to find out how you can participate. This meetup is a great opportunity for Arches Developers to introduce themselves and to learn more about the technical considerations for current Arches deployments.


Community Highlights
Who is using Arches?
Arches has been implemented by organizations worldwide, and we are always enthusiastic to learn about new and upcoming implementations. If you would like your implementation listed on our website, email us at contact@archesproject.org. Please provide a brief description, a screenshot and a link to your implementation if it has been made public.
Does your Arches-related project have a presence on social media?  Please email us the links to your social media accounts to contact@archesproject.org.


Getty Research Institute uses Arches® for two new archival collection tools: The Research Collections Viewer and 12 Sunsets
Getty Digital, in collaboration with the Getty Research Institute, has developed two new platforms powered by data managed in Arches. The Research Collections Viewer offers a way to discover and view the Getty Research Institute's archival collections, while 12 Sunsets is an interactive exploration of the artist Ed Ruscha's archive documenting the streets of Los Angeles. Containing item-level metadata such as geolocation coordinates, computer vision tags, OCR text, and addresses, Arches is one of the data management systems driving both experiences. This single Arches implementation allows for recontextualizing the metadata and building unique experiences for different audiences. Containing over 100,000 resources, this is the Getty Research Institute's first use of the platform in production.
A screenshot of 12 Sunsets, which features photos from the Streets of Los Angeles Archive. The Getty Research Institute, 2012.M.1. © Ed Ruscha. Website design by Stamen.


A screenshot of the Research Collections Viewer. Photograph shown: Sunset Boulevard, 1995, Ed Ruscha. The Getty Research Institute, Edward Ruscha photographs of Sunset Boulevard and Hollywood Boulevard, 1965–2010. © Edward Ruscha

To learn more about these projects, see the blog posts announcing the Viewer and presenting 12 Sunsets. It might also be fun to read about the computer vision work on the Ruscha archive and ponder: Does it snow in LA?


Find us on Social Media
Follow us on Facebook, Twitter, LinkedIn and YouTube to find out about the latest announcements, product releases, community updates and more.