Arches is an open-source software platform developed jointly by the Getty Conservation Institute and World Monuments Fund for cultural heritage data management. This enterprise-level system is freely available for organizations worldwide to install, configure, and extend in accordance with their individual needs and without restrictions. Because of the robustness of the Arches platform, it is also well suited to other non-cultural heritage purposes, such as asset management. The Arches Project has a growing open source community including institutions and individuals representing the government sector, NGOs and philanthropy, academia, as well as commercial entities.
Core Arches Platform Capabilities
The Arches Platform is a comprehensive solution for data management, data discovery and visualization, and project/task management.  The platform is fully integrated:  it includes a data management system to manage, define and structure data; discovery and visualization tools to search, report and visualize data (e.g. geospatial data); and project/task management tools (e.g. workflows) to manage sophisticated data editing procedures.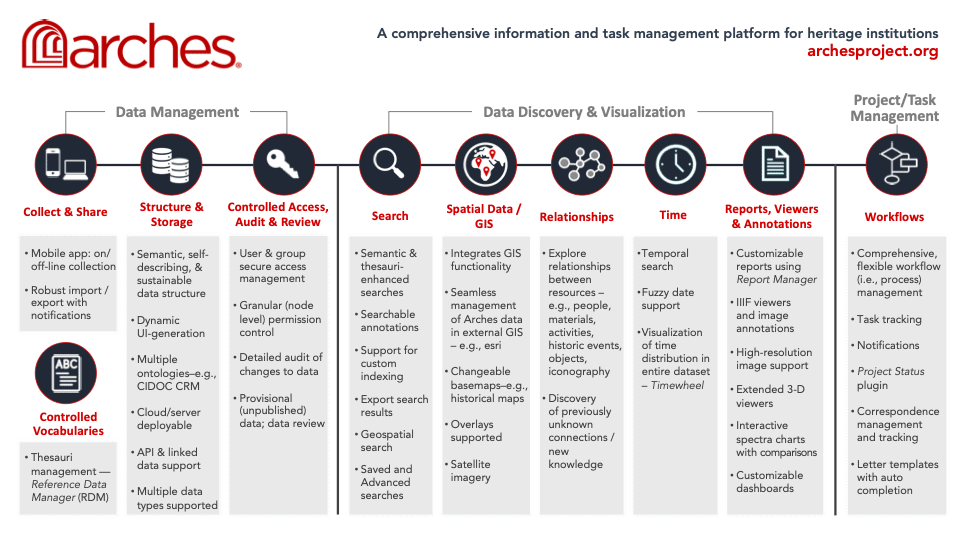 Arches Collector, the mobile data collection app, is a companion app ideally suited for field data collection.  The mobile app includes online and offline access, data synchronization, data input/editing, GIS capabilities, and more.
---
Primary Uses
Arches is an open, flexible, customizable platform, providing a wide range of uses based on individual requirements.  At its inception, Arches was specifically designed for the international cultural heritage field as a heritage inventory management system.  In recent years,  the core capabilities and underlying technologies of Arches have been further developed to support a broad range of use cases (see examples below).
Arches for Inventory
Cultural heritage organizations around the world use Arches to inventory, survey, and help manage a variety of heritage resource types, both immovable and intangible. Organizations that deploy Arches can create digital inventories that describe types, locations, cultural periods, materials and conditions of heritage resources and establish the numerous and complex relationships between those resources.
Arches for Science
Arches for Science will extend the Arches Platform to provide a comprehensive system to help conservation scientists, other heritage professionals, and heritage organizations secure, retrieve, visualize, compare, and share heritage science data, and manage tasks in the lab.  Arches for Science will be implemented at the Getty Conservation Institute (GCI), where it will be known as DISCO (Data Integration for Conservation Science). Arches for Science is currently in development and will be ready for internal testing at the GCI towards the end of 2021.
Other Uses of Arches
Arches is being deployed by cultural organizations for a range of other uses, including for heritage risk mapping including monitoring the effects of sea level rise to coastal resources, heritage site resource management, archaeological research, to manage and disseminate digital files from 3D recording of heritage sites and objects, and to manage and publish information on the provenance of art objects. Arches has also been implemented for a number of non-heritage uses, such as for facility asset management, oil spill response, monitoring groundwater quality, and tracking highway infrastructure projects.Organizations deploying Arches can configure, customize, and extend the platform through the appropriate expertise in its various open source technologies.
---
Open Source Community and Benefits
Following an open-source approach, the Arches Project functions through a collaborative international community organized around the software.  The community is composed of implementers, users, software developers, and technical service providers, who collectively represent various professional sectors including heritage management, archaeology, research, and information technology. Benefits of an open source approach include:  no licensing fees; flexibility to extend and customize the open software code, with adopters able to pool resources to extend or customize the software. Cost savings from implementing Arches can free up limited resources for meeting essential requirements, such as documenting and protecting cultural heritage.
---
Interested in learning more about Arches and the Arches Project?
Sign-up to receive announcements.
Interact with an online demo (Version 5).
Watch recorded webinar videos.
Review the software roadmap and releases.
Learn about Arches implementation considerations.
Consult the Getting Started with Arches resource.
Follow us on Facebook, Twitter, LinkedIn and YouTube social media!
---
Arches Open Source Project Background
Arches grew out of a collaboration between the Getty Conservation Institute and World Monuments Fund to address the widespread need within the international heritage field for low-cost digital inventories that are on the one hand, easy to use and are customizable and, on the other, take advantage of the latest technologies to allow for creating and managing heritage information in all its richness and diversity. The GCI and WMF jointly developed Arches through version 3.0 and laid the groundwork to create infrastructure for its open source community. Since then, the GCI has continued to spearhead successive software development efforts, including releasing Arches Collector, a mobile data collection app, expanding the capabilities of Arches to support management of heritage conservation scientific data, and further build resources for the Arches community.
Learn about the strategic aims of the Arches project and read a joint statement from the Getty Conservation Institute and World Monuments Fund, the organizations that partnered to lead the development of Arches, from when Version 1.0 of Arches was released in October 2013.
Last updated:  August 2021